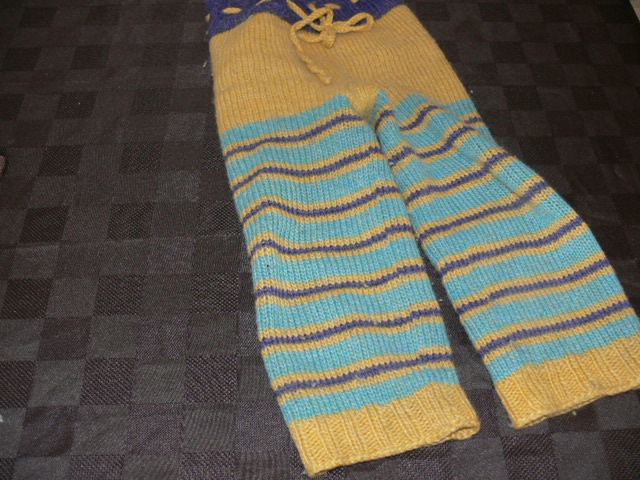 Using wool can often intimidate and scare cloth diaper users. The first thing to remember is it has been around for ages! My mother has a picture of her & 5 siblings all wearing cloth diapers with wool soakers. Longies are pictured above - they are worn over a prefold/ or fitted diaper. I found longies to be the easiest to use, as my daughter would wear them all day long, just like pants. I would change diaper as needed. Shorties are the same- but shorter...I know easy answer. Soakers look like granny gitch underwear. You can wear clothing & sleepers overtop just making sure it isn't compressing the wool and causing leaks. When you first get your wool, you lanolize it. Most of us have lanolin in our house ( often used during breastfeeding to help prevent cracked nipples). You add 2 tablespoons to hot water 1/4 full in your sink, fill rest of sink so that it is lukewarm. ( If water is too hot it will cause wool to felt, ie shrink). Once water in sink is filled, submerge wool and leave it. 2-3 hours later, take wool out and lay between 2 towels and roll out moisture. Lay flat to dry.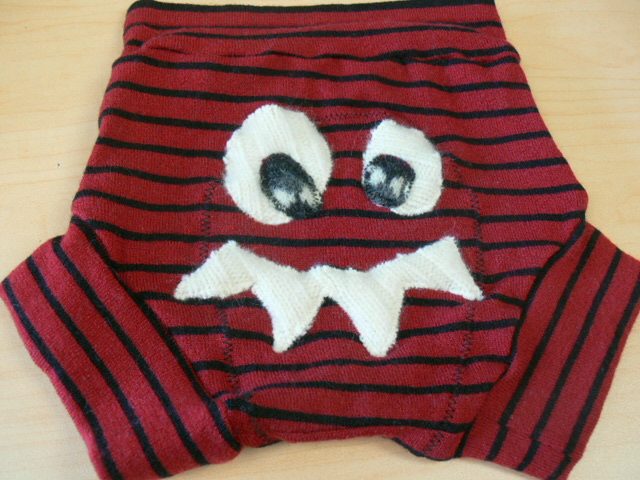 Pictured above is a wool soaker. Changing diapers is the same as always. When wet, change. Wool is amazing as it lets the baby's bottom breathe. There is no plastic. Wool is also an excellent option for those who have sensitive skin, or get rashes. If baby has a soiled diaper, simply change diaper, if there is any waste on the wool you can sponge it off and turn wool inside out to keep using it. To wash wool...mix a teaspoon of dishsoap / or baby shampoo in with the lanolin. Wash wool without wringing it out, lay flat to dry. I also used to use scented wool wash, you can get this at many wool stores. I would wash my wool with ewe need it, and my whole house would smell like monkey farts ( mixture of banana and nuts).

Wool isn't new, it's making its way back!

Wool has natural water absorption and water repellant properties. These properties allow the soaker to absorb excess moisture (approximately 1/3 of its weight) from the cloth diaper without letting it wick onto other materials. You'll be able to feel when your baby is wet just by the feel of the cover. A wool cover will act as an insulator, keeping your baby warm during the cool months, and cool during the warmer months.
Take a chance and go back to a more natural way of cloth diapering,
no synthetic materials, and eco friendly at that!
You don't need to worry about your baby feeling cold in a damp diaper. Wool soakers are meant
to be hand washed and air-dried, treated with a lanolin soak prior to first use and periodically with
regular wear. Don't let the handwashing scare you, you'll be doing it less often than you'd imagine! When treated with lanolin, soakers can be worn several times before they need washing, and work best when

you have 3-4 that you can rotate between while the others dry.When lanolin and urine interact,they form a natural salt, which, in turn, cancel each other out. The lanolin will slowly dissipate as it comes in contact with the urine,but you won't smell a thing! Any smell can most likely be attributed to the smell of damp wool. Any solid waste should be gently scrubbed off with a mild bar soap prior to washing or treatment. More than just a cover, your baby will live in these garments!