Smallest cover Newborn fits size 4pounds-12 pounds, with a premie prefold. Trifold into the diaper cover ( ie fold in both sides). Premie prefold fits 4-12 pounds.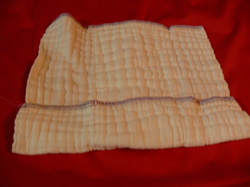 For the next size up in diapers, it is the infant prefold. Fits 8 pounds -22 pounds. Fold down the top of the prefold and fold in the sides. If you have a boy baby the folded down area is better at the front ( as boys pee up the front ), if it is a girl baby the folded part is better at the back ( as girls pee in the middle and back).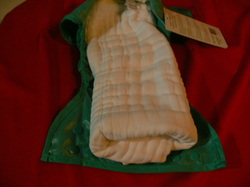 This is Sweet Pea One size cover ( fits 8-45 pounds). Inside this cover is our baby size prefold ( fits 20 pounds-45+). The front is folded down just like the picture above, and it is laid into the diaper cover.

The benefits to using the trifold is that it is easy to do, and you can have another diaper cover waiting & a prefold already folded into it. The downsides to using a trifold is the first 6 weeks the infant have "explosive" poops ( see poop video in our FAQ section). When infant has an "explosive poop" it will run onto the sides of the diaper cover. Trifolding works best for infants/babies when the poop stays in one spot a bit better ( ie 12ish pounds). Both the newborn cover & one size cover have snaps on the front to snap down to make the covers fit smaller. Make sure when placing diaper cover on baby that all diaper ( prefold) is tucked into the diaper cover. If any white diaper is sticking out, that is when you will get wicking ( leaking onto sleepers).