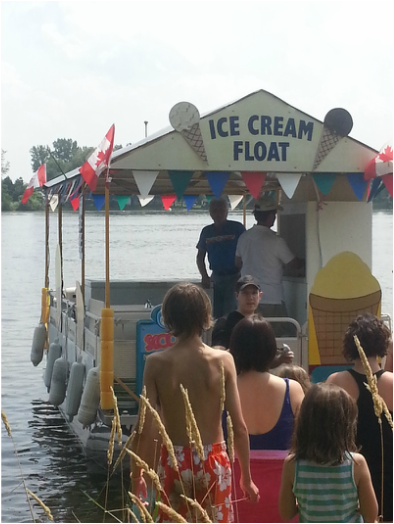 Yesterday was 32 degrees plus. This is where I wished I was...Can you guess? It is close to Ottawa, and is unique. The only beach I know that has an ice cream float. A houseboat that has a freezer on it, and they dish out ice cream.
http://ontarioconservationareas.ca/component/mtree/conservation-authorities-of-ontario/rideau-valley/baxter-conservation-area
The beach is sandy with lots of picnic tables, BBQ pits, and big mature trees. If you want to go earlier there are wooden boardwalks that you can hike through the forest on ( stroller friendly). Parking is $6, and you pay and display as you come in. There are change rooms/ and washrooms ( pit toliets).
The other huge highlight of this location is the sheer volume of boats on the Rideau river. This equals lots of waves.
The line up for the ice cream float starts about 12:45. Ice cream cones are $2.50.