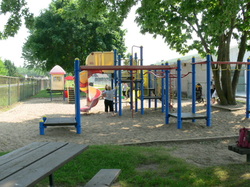 Is it possible to find that perfect balance? Where you can leave your child, go to work full time/ part-time and not cry all the way there? Our first daycare was a disaster. Not because the caregiver was mean and nasty, but because it just wasn't working well. I would drop off my son- he would scream and cry as soon as we pulled into the driveway, then I would proceed to head to work- tears dripping off my face onto the steering wheel.

He was the youngest child there, and the caregiver I think forgot what that age was like. He was 12 months old, and still needed some assistance with eating. She had high expectations for him to eat with fork and knife a huge plate of spaghetti. When I would pick him up, he would be strapped into a wagon watching all the other children play on the snowbanks. I interviewed 12 dayhomes within 1 week. My husband made a graph with the top 3 and what we liked and disliked ( he is an engineer..they like charts). The top 3 were all great, but at that point we chose a live out "nanny" "babysitter", and never regretted it. From the first day my son walked in, with no crying, ate well and napped for her. For me it was bliss. It was wonderful to go to work with one less worry. I was a little jealous of the "teas" she made him for lunch- grilled salmon with wild rice and veggies ( none of which he would eat at home).

There will always be questions to ask, police checks to look at, and certifications, however the biggest part of finding the one that works for you, is following your gut. Do you like it there? Does that person make you smile and feel comfortable? Below is a list of questions that you might already be asking your potential care giver, or maybe you will find a couple to add to your list.

1. Where are all the chemicals locked up? Is there a fire extinguisher? Is there working fire alarms and CO alarms?

2. Are there safety gates on the stairs- are they pressure mounted or bolted in ( esp for a basement stairs).

3. what is their policy on discipline? on television? on giving meds? on sleep routine? Do they do cry it out? Will they contact you if a child gets hurt? Potty training?

4. How many sick days do they take? Are you paying for them? How many vacation days do they take? What if they have an apt- who watches the children?

5. What is a sample week of meals look like? Do they supply snacks? Do they cook organic? How often do they sanitize the dishwasher/ plates?

6. Will they do cloth diapering? Do you supply the diapers or do they? Do you supply wipes? Do you supply sunscreen/ bum cream?

7. Does caregiver drive the children in their Car? Do you supply carseat or do you? What is the expiry date on the carseat being used? Has it been properly installed by S.E.A.T.S? Do they take the carseats in and out?

8. Do they do trips to the park? Do they bring a first aid kit with them? How many parks are nearby? Do they go to playgroups? Do they ensure all children have a sunhat and sunscreen on? Do they reapply sunscreen? Do they bring water for children?

9. Do they have a police check done? is there a police check for everyone in the house that is over 18 years of age?

10. How long have they been doing this? Are they doing it just until their children are in school full time? What is the ratio of children? Does it follow ministry guidelines? Are they licensed?

11. What are the hours for drop off & pick up? Are you flexible on those at all? Is there a fee if I am late?

12. Do I pay if my child is away or ill?

13. How do you comfort a child? Is there a transition period to get them used to daycare?

14. Where do the children sleep? Do you supply playpen or do I? If a child is having problems falling asleep with others around do you separate?

15. Is there smoking allowed in the house?

16. Do children need to be immunized in order to attend this daycare?

17. Are the doors safe and secure? Do you have a sign in/ sign out policy for security? How do you communicate with the parent? Daily Logs?

18. Do you have pets? Are all their shots up to date?

19. Do you have a fenced in yard? Do you have a pool? If there is a pool what are the policies with using it?

20. Do you have a list of references I can check? Are we able to stop in and see our child?




Sometimes the prettiest house will be the worst daycare? Our first (ie the terrible one, had 1 room for a playroom, children were allowed in the kitchen and living room, and there was a sectioned area off they weren't allowed). That same caregiver also said they were building a fence and it would be done in 3 months. 6 years later there is still no fence. Do an interview, and also drop in at one of their worst times ( ie lunch/ pick-up or drop off's). This will give you a good indication of how they are really interacting with the children and parents. Check out nearby parks, get feedback from other parents. When I was off with my son, I saw caregivers screaming at children. I won't recommend those to anyone. The caregiver we had for 6 years, and both my children went to her, we still see. I bring her gossip on Cornation street- as she is british and loves the show. My children run up to her and give her big hugs, and she is a part of our family. It will take time to find the right place, but when you do you will know it.