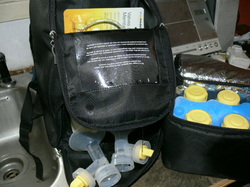 It is no secret that I hated pumping. Loathed it. It maybe was due to working full time at a workplace that wasn't supportive of it. My daughter was at daycare full time, but I still was nursing ( quite common & recommended to age 2years +). Part of the reason I detested pumping, was I wasn't able to produce very much, and yet my daughter breastfed just fine. It was in the middle of winter when I returned to work, and I would pump in my car. I would move my car to the attractive spot near the dumpster, crouch over and try to will my body to stay warm enough while I pumped. My manager called it " my lactation issue", as if saying the words nursing, pumping, or heaven forbid "breast" might make him break out in hives. He tried to convince me that I needed to start my work from my office, as then I could pump before going on the road to visit clients. However anyone who has done any long term pumping knows, it is better to have a schedule that mimics the baby. I pumped daily at 11am, and 2 pm. Venturing out to the car, moving the car, and pumping, was still quicker then the 15+staff members that took smoke breaks.

If you are planning to pump when you return to work, set up a room that you can pump in. Even better if it has a lock on it, and isn't a bathroom. Bring a picture of your baby to help with letdown, think about your birth & memories that you have of it. The above picture is the pump I used pump in style from Mededa, and a cooler bag for bottles. Even if you are unable to pump great amounts ( I was able to pump 1 oz from each side- so not a lot at all!), you are still stimulating your milk production for your child. Keep in mind as well that your child will always be able to get more from you then your pump. My schedule looked like this:

Morning cluster feeds 6-7:30am- my daughter would nurse 2-3 times during this time, plus eat breakfast ( keep in mind she was quick nursing 5 min)

7:30-11- drop off at daycare, drive to work ( I know someone that used to pump on the way to work, I don't recommend this)

11- pump in car

2pm- pump in car

4:30- pick up from daycare ( often my daughter would want to nurse at daycare), snacks in the car, cluster feeds till bedtime at 6:30-7pm

I continued to pump at work for 2years. This wasn't something I planned out, nor did I get any pleasure from doing it. Sometimes you do what needs to be done, to make your children happy. My daughter liked "milkies", it kept her healthy, and that is what kept me going. I do wish that in future years companies will see the importance of healthy moms & healthy children. This means less sick time, and healthier communities. I wish that it wasn't such a fight to ask for a "pumping room", and that just because a mom asks for this it isn't considered preferred treatment. That just because that mom doesn't want to pump in a bathroom, this doesn't make her demanding. I also wore a nursing tank under my work clothing to make pumping easier ( ie less skin showing).