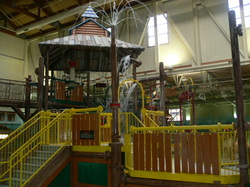 Sometimes hotels overlook the little things...not at Great Wolf Lodge. They have thought of everything you could ever need, or want. And there is friendly staff. Not just when you check in, but all the time. When your child is waving a wand at the raccoon in the dining room, so that the critter's eyes light up, the server smiles and points out other creatures.
Suites are designed for families. A privacy wall separates the tv, from the beds. Beds are comfy, spacious rooms, hot steamy showers ( to ease muscles from climbing stairs for waterslides), fridge, and microwave. Have a larger family- they can accommodate that too. There is a loft suite that has 2 beds downstairs, a pull out sofa, fireplace, and the stairs lead to a private bedroom, and bathroom.
Great Wolf Lodge has made it possible for you to never have to leave the resort. Which is perfect as you won't want to. Tons of restaurant choices ( pizza-you can get takeout to your room, poolside food, sandwiches, healthy buffets), great gift shop with amazing staff that teach you how to do Magicquest, Scoops spa ( for little ones), Elements spas for older ones, storytimes, Pj parties, and yes a huge/giant waterpark.
How does the Waterpark compare to others? Great Wolf Lodge surpasses all of them. The safety is top notch, it is clean, helpful & friendly staff, and fun. We have been to Atlantis in Bahamas before, and while it nice to look at, it lacks the safety & fun of Great Wolf Lodge. At Atlantis the bucket in the kids area actually dumps water onto children, at GWL the huge bucket dumps water onto the roof of the structure, keeping children safe. There are areas for all ages, huge area for toddlers and babies( no children over 5 allowed), a wave pool, the interactive structure- see above with squirt guns, dumping water areas, 2 slides, sprinklers. The flooring in the waterpark is all non-slip. To my knowledge lifeguards can say "please walk" until they are blue in the face...but little ones will be so excited they take off at high tilt. The non-slip flooring keeps them protected at all times. There is a pool with giant lilypads to jump to with a rope ladder to hold onto. Another pool boasts basketball nets, and a large snake to climb onto. There is a lazy river that you can float down in tubes, while buckets dump water onto to you. Numerous waterslides cover the entire park. My son's favorite was rapid river which has a conveyer belt that pulls the tube along- making it very fast ( but safe as there is netting over the entire open areas).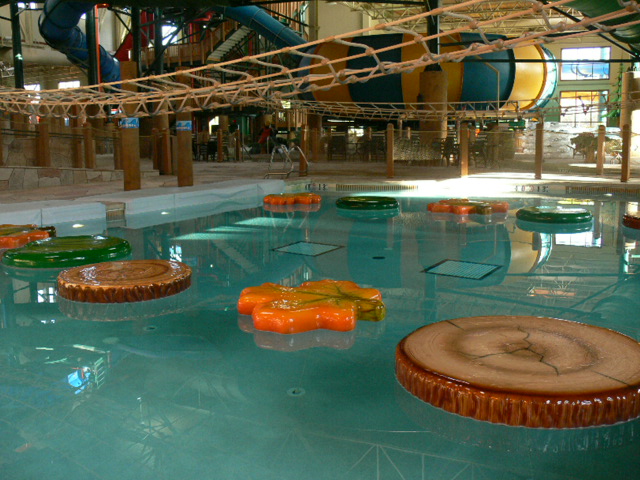 The above picture with the jumping lilypads, reminds me of my childhood days at Ontario Place. The had something similar to this with a rope ladder. My children loved this pool at Great Wolf Lodge. By standing on their tip toes, and the lifeguard pulling the ladder down a bit, they were able to jump the first 3 pads, before faceplanting in the water. They would surface giggling away. A huge hit!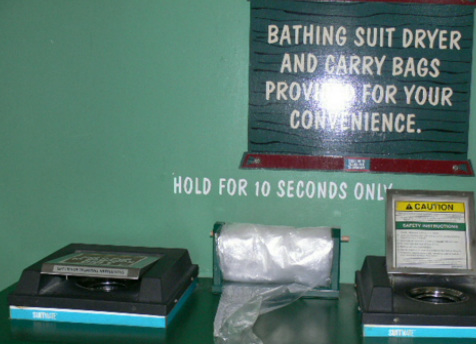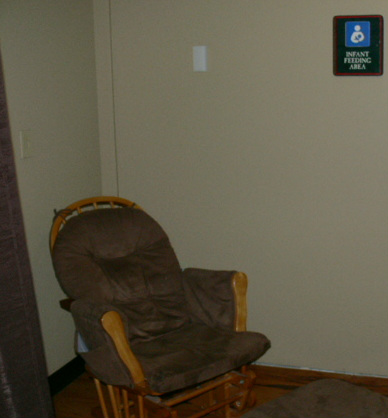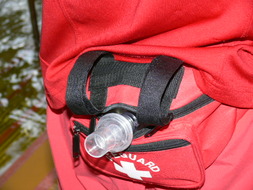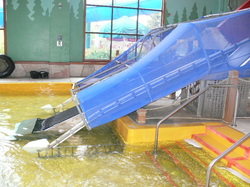 The above pictures are to show all the care and concern Great Wolf lodge shows its cliental. The nursing area for moms- you can make private or not. The nursing area is located in the cub care room. My youngest spent 1 morning decorating in the cub club ( she didn't want to leave). Cub Club has a special time from 10:30-11:30, that you can drop your children off with a small fee, to do crafts ( which also the time of checkout). Ideal! You drop children off, search under the beds for lost stuffies/gather all your belongings, check out and then scoop your children up on the way out. Genius.

Bathing suit dryer. Loved it. Also once you bring your bathing suits into your suite, there is a retractable clothesline in the shower you can use to hang them to dry further. All lifeguards wear fanny packs with a face mask in it. As a past lifeguard ( I worked in BC at a waterpark/ beaches, and pools) I was admiring the GWL lifeguards ability to have enthusiasm, energy, and no yawning. They also have a fake "timmy" doll that can be put in the water at any point to simulate a child drowning. This information is posted near the bathing suit dryer so that guests do not get startled about a plastic doll in the water.

There is a conveyor belt to bring up the large tubes. Huge Bonus. For anyone who has tried to walk their child up many steps, with a tube in hand, it is simply torture. This made the experience of riding tubes fun, exciting, and easy.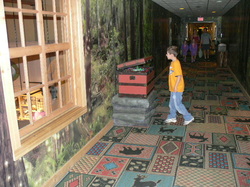 Magiquest is a must if you are visiting GWL. Children will beg for the magic wands that open chests of gold, light up crystals, and hunt for all the clues. Available in the gift shop, children can pick out wand colours, wand toppers, and characters. They then pick an adventure, and are given instructions by the staff. The aim is to find the final clues, by finding the right crystals in order. At the beginning of each hallway there are crystals, and interactive props that will react when children point their wand at them. You carry around a booklet, that will assist you in finding the right order.
Great Wolf Lodge is located 5-5.5 hours from Ottawa. We had an amazing time, tired tuckered out children on the way home, and great memories. If you are looking for a vacation that will please the entire family, this is it.





Please note: When this blog was written Nov.2013, I was part of the Great Wolf Lodge "ask a wolf mom team".