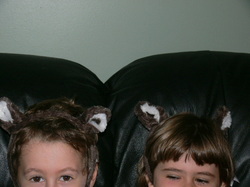 Currently I am an Ask A Wolf Mom for
http://www.greatwolf.com/niagara/waterpark
. Great Wolf Lodge has a contest on this summer I thought I would share with Ottawarians(is that even a word).
During the Wolf Your World Tour, three new characters – Rachel the Raccoon, Brinley Bear and Sammy the Squirrel – will join Wiley the Wolf, Violet the Wolf and Oliver Raccoon in "wolfifying" America by handing out tens of thousands of wolf ears at each stop on the Tour. Consumers will have the opportunity to enter the Great Wolf Lodge Ultimate Getaway sweepstakes. At the end of August, one lucky family will win a two-night stay for 25 family and friends plus a banquet for their entire "pack" at the Great Wolf Lodge of their choice. Fans can visit
www.wolfyourworld.com
to enter the sweepstakes, take part in weekly contests and follow Wiley the Wolf and friends on their adventures.
To enter to win..wear your wolf ears (which you can get from me) everywhere..baseball games, eating a beavertail, at the splash pads, grocery shopping, family outings and so on. Take a picture on and post it on facebook with #hashtag #wolfyourworld, tweet pictures using #wolfyourworld, and you could win a trip to Great Wolf Lodge for you and 25 of your closest family/friends.
Want ears?? Let me know and I will drop off while I am doing deliveries.