Since this recipe came from a book "Let me in the Kitchen" by Susan mendelson (cookbook for kids and first timers) I thought it would be breeze. Nope. I can honestly say I wouldn't make these again, and if I did i would vary it a lot.
Base:
Ingredients: 1/2 cup butter, 1/4 cup of white sugar, 1 egg, 1tsp of pure vanilla, 1 Tbsp of cocoa, 2 cups of graha crumbs, 1 cup of unsweetened coconut, 1.2 cup of walnut pieces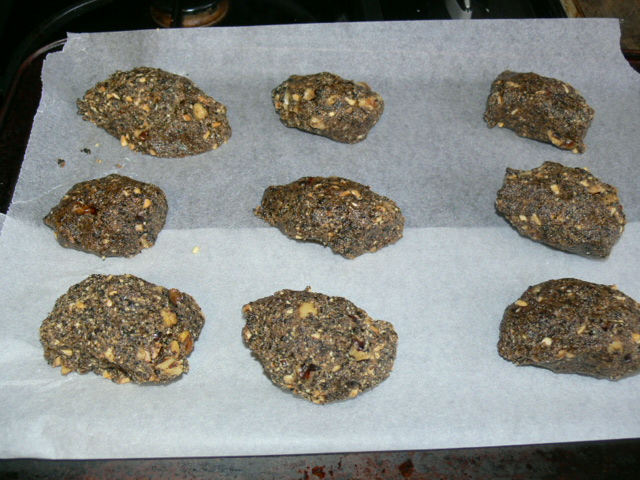 Put the butter, sugar, egg vanilla, and cocoa in the top pot of a double boiler over medium heat and stir with whisk until mixture is slightly thick- about 5 min, remove from heat. Put the graham crackers crumbs, coconut and nuts into a bowl, stir together, pour the hot mixture over the crumbs, mix with wooden spoon, using hands form 8 egg shapes. Put on waxed paper - chill for 15min.

Note: I personally found the base to be too big. if I ever did these again- I would do 1/4 of this size.

Centre: 2 Tbsp of custard powder, 2 cups of icing sugar, 1/4 cup of soft butter, 3Tbsp of milk
Blend the soft butter, icing sugar, milk and custard in a bowl till smooth, spread carefully over the tops and sides of the eggs, return to fridge for 15min


Chocolate topping:
8oz of semi- sweet chocolate, 2Tbsp of butter
Melt the chocolate and butter in the top part of the double boiler over medium heat( the bottom pot should have water in it). Quickly swirl the eggs around in the melted chocolate. Use 2 forks to lift each egg out of the pot, use a spreader to spread chocolate over any parts that didn't get covered. Put eggs back onto cookie sheet and chill again.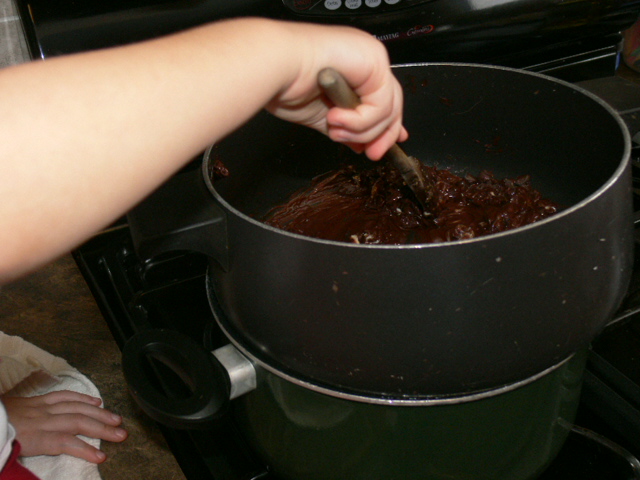 Notice my great double boiler?? we had to improvise.
I found the chocolate needed more butter to make it runny. We spread ours on the eggs using a spatula- but I was thinking you could also use the magic chocolate spread that hardens, and it would be easier for children to do. Not exactly a masterpiece. Also you could decorate with icing sugar and print names on them...but I found the eggs extremely sweet therefore we left them plain. Also makes it easier to put them in brown paper bags and drop them off randomly as they are too big and way too sweet!