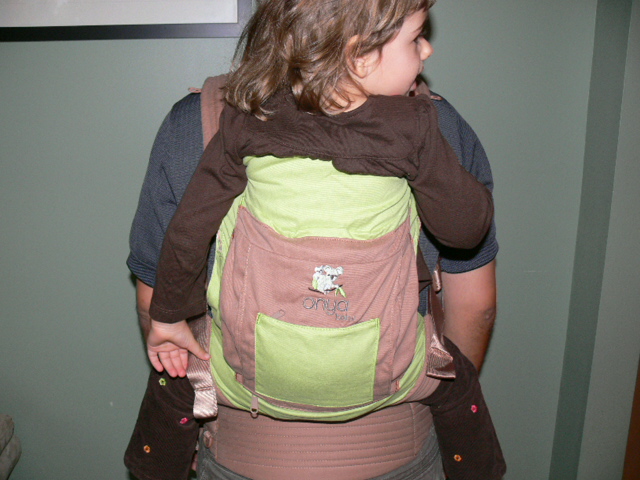 Traveling around Ottawa today, I noticed lots of babywearing. It is colder out, but yes you can still wear your baby or child. Pictured above is the Onya Baby carrier. Both my son and daughter enjoy being in this carrier as it has a high back, and a wide base for their bottom. The high back allows comfort for the child, as they feel stable and more secure. When the back collar is rolled up it is 18 inches tall. I noticed one mom out today wearing a Beco gemini (however the panel was snapped down) (14inches) and the baby was bouncing around on her back.

Some suggestions I have for babywearing in colder weather are:

1. Use babylegs. You can find them at Elmhill Kids located in Signature centre in Kanata. When my children go on my back their pant legs ride up creating a space between the boots and the pants. I like to put babylegs on their calfs to cover this space up.

2. Visit a local Consignment shop to pick up a Mec fleece suit: Three bags full on hazeldean rd, often has them. The Mec fleeces offer fold over hands and feet to keep babies warm and cozy. Keep in mind that these suits are ideal if you are wearing baby/child on top of your jacket. If you are wearing baby inside you vest/coat the fleece will be too warm. Babies are tiny little furnaces and will generate lots of body heat.

3. I don't have a special babywearing vest or jacket. Instead I use my partner's fleece vest, and zip it up half way so that baby's head is still visable. You can also still get use out of your maternity coat, and do it up half way as well. You want to make sure baby is "visable and kissable" throughout. If wearing a wrap, make sure baby can breath, and you can see baby.

4. Buy some non-slip-ice grips. This is what you see postal workers wearing. They slip over top of your boots and provide traction on the snow and ice. Often it looks like light fluffy snow, but there is a layer of ice underneath!

5. Put on coat, and carrier and try baby on BEFORE leaving the house. After going to a santa claus parade and NOT doing this, I can tell you it is a huge pain. Straps have to fit over your winter wear, as well as child's winter wear..big difference compared to summertime babywearing.

6. Always have your carrier handy. I keep mine in the car, as I never knew when I will need it.


Sometimes I think I should sell off some of my carriers, however I find myself in need often: in the winter months my children like to feed the birds on some of the NAC trails, however my youngest doesn't like when the birds divebomb her head so she is happier in the carrier watching safely from mommy's back. Also at a recent santa claus parade, my youngest didn't like all the noise/ and trucks, and felt more secure on my back.

When we travel, we babywear. We bring a stroller- but really it is used as a pushcart, or to hold all our stuff. We have it down to a science! My partner drops me off at the terminal- with all the luggage,stroller, carseats and 2 children. He then leaves to park. When he returns we are usually at the front of the line ready to check in. I place 1 child on my back, 1 in stroller (double)- carseats on the other side, and the luggage cart I push with my other hand.

Babywearing isn't just for when they are young. Your child might be walking, however their little legs get tired. Even at age 4, and 5, I find both of mine are still apt to want to be on my back when hiking for long periods. Below are some photos of mec fleece suit, and grips for boots. Babywearing in winter is doable, just make sure you are prepared and enjoy!