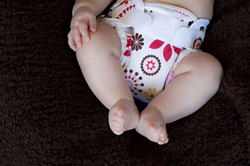 Photo from NDS Photography


Cost breakdown:Cloth diaper service 0-24months (children who wear cloth diapers potty train faster)

Regular service: $2,213.71- this includes all your prefolds, diaper pail rental, scented disks, wipes, and boosters. Only add-on's would be extra covers(the above price includes 2 covers) so if you got One size covers 4 x 11.99(47.96) you would be set.

Organic service: $2, 948.98- again includes all your prefolds, diaper pail rental, scented disks, wipes and boosters. Also means No chemicals are touching baby as diapers are washed in all natural laundry soap, and hung out to dry in sun. Only add-on would be extra covers if required which are offered at 10% discount to diaper service customers.Average child will go through over 4,000 diapers in 2 years. Keep in mind the first 0-3 months infants are getting changed 10-14 times a DAY. That's right 84 diapers a week. So picture that diaper genie sausage of 84 diapers. Then picture that in Ottawa, it is Bi-Weekly garbage pickup unless you get put on the list for weekly garbage due to disposable.

Another myth is that cloth diapers smell. Well considering I spend most of my time driving throughout Ottawa with loads and loads of dirty diapers in my car, I would have to say it is the opposite. Disposable diapers when wet or dirty have a very nasty smell. If you are one of those pregnant moms whose sense of smell increases after having a child, you will agree.

Yet another Myth..Cloth diapers aren't as absorbent. Not true. During a recent home visit, where I was explaining how to fold a prefold into a cover, I was explaining how elastics at the back of the cover kept poop explosions in. As I was speaking the new first time parents lifted the infant up as she had been sleeping on her back on a blanket, and there was the proof. From high back(shoulder blades) to the crotch the newborn was covered in yellow/orange poop. And she was wearing a little onsie. Has anyone experienced this where they have to carefully pull the poop covered onsie over the infant's head without it getting in hair/arms/ basically everywhere. The infant was wearing a disposable diaper, as they hadn't started with cloth yet.I recommended changing her in the bathtub or kitchen sink.

Cost of child in a disposable:
Keep in mind this is an estimate. I calculated the disposable diapers at .10 cents each( which is on the low-end). Average of 12 diapers a day for first 3 months, then 8 diapers a day for 1 year, then 6 diapers for 1 year. So the grand total is $3,768. Keep in mind this does not include diaper genie refills, the times you go and put a disposable on and the tab breaks, wipes, or the times you put a clean diaper on, only to have baby poop right away. Also this estimate is for 27 months...most babies who wear disposable will be in diapers longer as they don't feel the wetness. So you could be adding another 1 year to this
estimate. Also this estimate is NOT based on "natural" disposable or the "green" disposable.